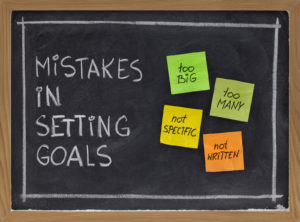 The goals set by the person who comes to you for services must be written in their Consumer Service Record. This can be in a formal Independent Living Plan, or the consumer can waive having a plan. A Consumer Service Record and at least one goal is required for any of the core services provided other than Information and Referral.
The consumer may want your assistance to put their goals into measurable terms. If you do this, preserve the person's own words as much as possible. Measurable language is wording the goal so you can read it and answer, yes, that goal has been met or no, that goal has not been met. For example, "Housing" is not a measurable goal. "Find an apartment for under $450 a month that is within 1 mile of work" is specific enough that you and the consumer know whether it has been met or not.
The consumer may also want assistance in breaking a big goal down into smaller, more manageable steps.
Comprehensive training information is found in our on-demand training recorded from an on-site training on Service Coordination. The captioned video, powerpoints, handouts, and other resources are available on the site and you can choose the segments of greatest interest. You can find this on our website at http://www.ilru.org/effective-service-coordination. Be sure to scroll all the way through the page. The resources are at the bottom. The video titled "Effective Interviewing and Goal Setting Process" is especially appropriate for what you are seeking, I think.

Information around core services is also found at http://www.ilru.org/topics/cil-core-services; while we haven't added in the new core service of transition, you can search for "youth" and "transition" and find many resources for those areas as well.
<!– HTML Credit Code for Can Stock Photo–><a href="http://www.canstockphoto.com">(c) Can Stock Photo</a>
How do we write goals and case notes?