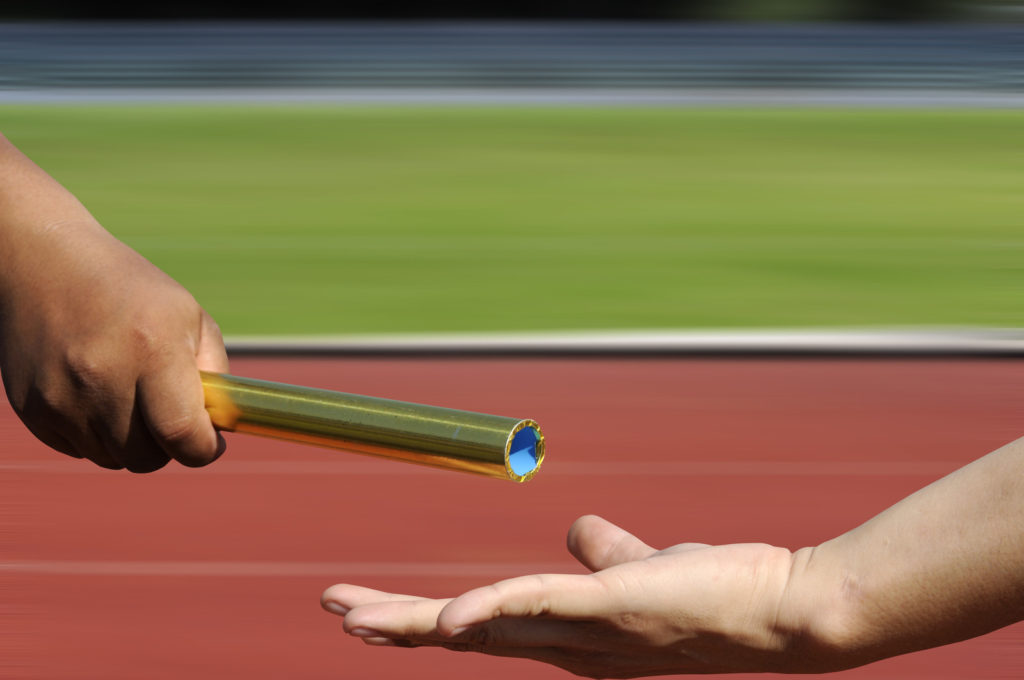 Whether a transition is known and immediate, or totally unknown,  a transition is coming. It isn't a matter of if — it is a matter of when.  The Executive Director and Board of your center need to take up this matter and decide — what will you do when it is time to pass the baton?
Here are some suggestions:
1. Develop a policy and procedure for how the board will seek a new Executive Director, should that become necessary. Get board approval before they actually have to search. Address key questions, like what to do if a board member wants to apply, (We suggest that a board member would need to resign from the board to apply for any position.) where you will advertise, (We suggest a national search including posting to IL websites like NCIL, APRIL, and ILRU.) and how applications will be reviewed, screened or otherwise addressed.
2. Address interim leadership. Often there is a period of time between when you know the position is becoming vacant and when the position is filled. Will the board appoint an interim from among current staff? Is that person to be considered for the position? Will you keep the prior exec on (if possible) for a period of time to train his/her replacement?
3. The current leader should make a list of the important tasks, those that are so specific they probably aren't included in the job description. For example, as current executive director you are probably the person who goes into Grant Solutions and draws grant money down to be direct deposited in your account and keep your center running.
4. Have redundant systems for important access.  The new person won't have much time after starting to figure out how to draw funds, sign checks or have other access. You want to determine who else can do this whether you are incapacitated for a week or forever. This may be a board member, or another staff member, but never have only one person who can access. Tip: Don't just share your user name and password. Set them up with their own access so it is clear who is actually access things.
5. Through any significant change, keep your Project Officer, your SILC and your DSE informed. They will need to know if there is a change in leadership.
For more answers to this question — one that impacts all kinds of not-for-profits — I often look to more generic resources. You might look at Blue Avocado, for example, which operates a "board cafe" to address many issues.
And check out this week's New Century CIL Blog for even more links.
<!– HTML Credit Code for Can Stock Photo –>
<a href="http://www.canstockphoto.com">(c) Can Stock Photo / ekarin</a>
Changes in leadership — Succession Planning